Florida Beer Trailers
by Tampa Bay Bar Services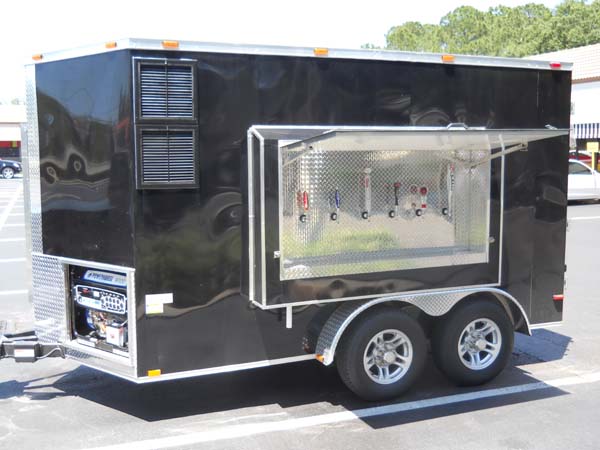 Mobile 7'x14' Fully Refrigerated
Draft Beer Trailers

Runs on Both 110 Volt A/C Power or Built-In Electric Start Generator

No External Power Required !

Large 30 Keg Capacity

SIX Built-In Beer Lines Including CO2 Tanks

SIX Individually Custom Chilled Beer Taps

Serve Ice-Cold Draft Beer Anywhere and Anytime !

Screwless Gloss Black Exterior is Ready for Displaying Beer Logos and Event Signage

Custom Diamond Plate Lighted Draft Beer Serving Boxes

Cool Max Specs / Chills Beer Down to Ice-Cold 34 Degrees !

Craft & Specialty Beer Ready

Fully Self-Contained Units

Local and Statewide Service

Rental Units With or Without Event Staffing and Florida Beverage License Available

The Only Trailers of Their Kind in the State !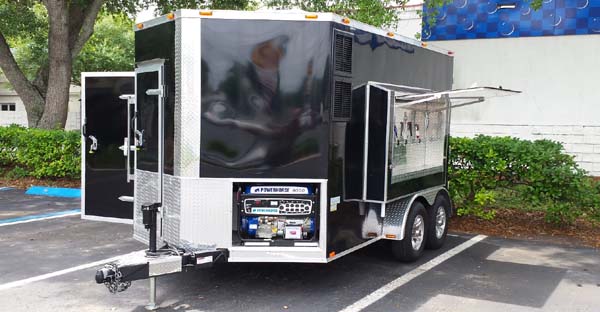 Fees and Deposits

All Deliveries Originate in Tampa, Florida 33618

Delivery and Pickup charges are billed at $2.50 per mile each way and include trailer setup and breakdown fees. Units cannot be self-transported.

Cleaning Fee is $250 per Trailer if Required

Security/Damage Deposit is $500 (100% Refundable if No Damages Occur)

Beer Trailers Are Configured with American Sanke (Type D) Keg Couplers. If you provide your Own Kegs, you must ensure that they are compatible. Also you are Responsible for providing your own Tap Handles (Short-Style).

Payment is Due in Full upon Delivery of the Unit.

Refrigerated Units require a dedicated 20 amp/115 volt circuit for operation. If one is not available, there will be a $150 per 24 hour Fuel Surcharge for use of the onboard Generator.

Weelkly and Monthly Rentals Also Available. Please Call Us For Details.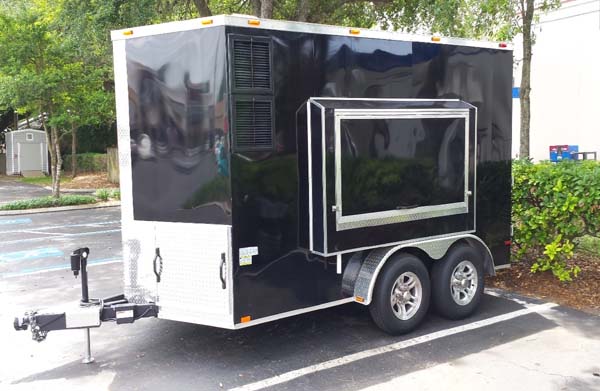 Available Extras (Call for Pricing)

Beer Pitchers and 16oz Beer Cups

Beverage Napkins

8' Beer Serving Tables w/ Banquet Linens and Table Skirts

10' x 10' Beer Area Service Tents

Professional Full Event Service Staff Including State of Florida
Alcohol Beverage License and Liquor Liability Insurance

Outdoor Specialty Event Lighting

CO2 Gas For Draft Beer Service


SPECIALS

Delivery & Onsite Technician Package

Two Day Weekend Special $1,150.00
Includes Delivery, Setup, Breakdown, Cleaning, and Return of Unit

Includes 1 Draft Trailer Technician Onsite for your Event up to 8 Hours in Duration per Day

Includes up to 25 miles each way. If over 25 miles additional
Delivery and Pickup Fees will apply


For All Packages Additional Fees May Apply
Please Call For Details (813) 963-2776